Workplace Ergonomics: How to Maintain Optimal Health and Energy
Workplace Ergonomics: How to Maintain Optimal Health and Energy
Written By Cy-Fair HealthCare Associates on February 22, 2021
---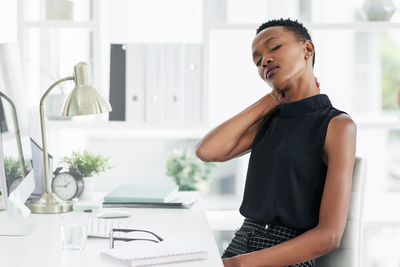 Are you carrying extra tension in your shoulders, neck, or back? Then you could be suffering from poor workplace ergonomics.
What is Workplace Ergonomics?
Workplace ergonomics is the study of the relationship between workers and the essential functions of their job. It often refers to the daily practices that help you maintain optimal health and wellbeing while moving throughout your workday. It involves:
●
How you position your body as you work
●
How your workplace is set up
There are several guidelines provided by the United States Department of Labor to help prevent musculoskeletal disorders, such as low back pain, which is cited as one of the leading causes of disability amongst working individuals.
How to Maintain Optimal Health and Energy with Proper Workplace Ergonomics
There are several ways to maintain proper alignment throughout your day, which helps prevent injury and helps fight excessive fatigue. Here are four workplace ergonomic tips to help you maintain optimal health and energy:
Maintain Neutral Posture While Sitting or Standing
Maintaining a neutral posture ensures that your body is aligned and balanced properly, minimizing stress on the body's muscles, nerves, tendons, bones, and joints.
Get Up and Move Throughout the Day
If you have to sit for long hours, you want to make sure you are taking time throughout your day to stand up and walk around. A good rule of thumb is to get up and move around every 30 minutes or so.
Reduce Excessive Motions
Whether you're sitting at a desk or having to sit in a truck for long hours at a time, you want to reduce excessive motion. Overexertion or repetitive motions can lead to musculoskeletal stress. Keep essential items within easy reach at all times and avoid having to move in an unnatural position whenever possible.
Have Adequate Lighting Wherever You are Working
No matter what work you are doing, you want to ensure you have adequate lighting. Otherwise, you're at greater risk of having to squint throughout the day, causing eye fatigue, muscle strain, and headaches.
Advice on Proper Workplace Ergonomics from Cy-Fair HealthCare Associates
Workplace ergonomics can play a much larger role in your overall health and wellbeing than you may think. Taking small steps each day can help you start to feel more energetic and keep you moving throughout your day with ease.
If you still have questions on workplace ergonomics, then contact the Cy-Fair HealthCare Associates team today.

Posted In: Chiropractic Neck Pain Treatment Neck Pain Workplace Ergonomics