Benefits of Seeing a Chiropractor for Auto Accident Injuries
Benefits of Seeing a Chiropractor for Auto Accident Injuries
Written By Cy-Fair HealthCare Associates on August 2, 2021
---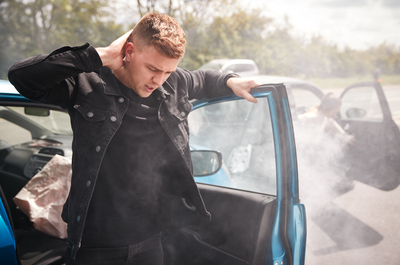 When it comes to auto accidents, the top two injuries we see are whiplash and concussion, and they're the top two we're most concerned about. A minor whiplash can pinch nerves or lead to a shoulder injury. And minor concussions are serious enough to lead to long-term health issues we want to help you avoid.
Pain or no pain, get checked out. Our doctors at Cy-Fair Healthcare Associates in Houston can give you red flags to look for that adrenaline may have masked immediately after an auto accident. On top of that, our documentation is critical should you need to take legal action.
How Our Chiropractors Help Help With Accident Injuries
Our ultimate goal is to help your body restore range of motion and full physical function. Even a minor car accident is enough to create the need for a chiropractic adjustment. Our chiropractic adjustments help you recover from an auto accident in four powerful ways:
Reduce Pain - Getting rid of pain is a top priority. Chiropractic adjustments signal your body to release pain-relieving hormones, including cortisol, oxytocin and neurotensin.
Reduce Inflammation - Your body uses inflammation to protect an injury site and promote healing. The challenge with auto accident injuries is it can trigger so much inflammation that you heal slowly. Chiropractic manipulation helps moderate the inflammatory response so you can heal faster.
Reduce Scar Tissue - Muscles and tendons scar up as part of the healing process and to once again protect an injury site. Scarring stiffens you up and can be painful. Our chiropractors expertly break up scar tissue so your injury can heal, pain levels go down, and you can move better.
Preserve Range of Motion - Research shows that safely staying active is far more beneficial to injury than pure rest. Too much rest exacerbates stiffness brought on my inflammation and scar tissue formation, and leads to muscle mass loss. An injury site needs all the muscle support it can get to protect it and recover. On top of all that, stiffness can pull you out of alignment until one of our chiropractors performs an adjustment and eases out the stiffness.
Get Auto Injury Treatment in the Houston Area
Here at Cy-Fair Healthcare Associates, we want to heal all of you. We offer services and products in addition to chiropractic treatment to help you stay well. A healthy body sets the stage for your day-to-day well-being and how well you will age. We have decades of experience in treating auto accident injuries, and would love to help treat yours.
Have questions or need to schedule an appointment? Give us a call at (281) 955-9946 or go online and fill out a contact form.

Posted In: Auto Injury Treatment Chiropractic Whiplash Treatment Neck Pain